Gardening

'The elder brethren of our profession, who can look back, for instance, to the introduction of the Dahlia, give us but a poor idea of flower-gardening as it was practised in the first decades of the century.'

In its purest form, gardening is about connecting with the earth and resetting our clocks to the simple, natural rhythms of life.

Bad backs and accidents can spoil the pleasure of gardening. Taking an ergonomic approach to gardening can help ensure that it is a safe and enjoyable hobby.

The daylight is long and powerful in mid-summer and plants grow at an astonishing rate.
Seeds

With proper storage, gardeners can save seeds for next year

Reading fine print on seed packages is good gardening advice

Damping off is the single term used to describe underground, soil line, or crown rots of seedlings due to unknown causes.

Most Japanese Maple seeds ripen in the fall. Watch the tree and wait for the seeds to turn brown.
Pest Control

It is virtually impossible to keep your indoor garden - conservatory, greenhouse, window sill or potted plants - entirely free from pests. The goal should be to keep the level of infestation down as much as possible.

If you have a garden, you are guaranteed to have slugs and snails.
Growing Plants

What are bulbs and how do you distinguish them from corms, tubers and rhizomes?

How deep should bulbs be planted? According to a study published in the Journal of the American Society for Horticultural Science it may not matter because bulbs can move themselves deeper into the ground, seemingly in search of better, moister growing conditions.

Trial points to the value of prunings as a source of new plants.

Home-grown, vine-ripened are among the garden's supreme treats- sweet, succulent, and bursting with flavour

For those who live in flats or detached homes, hanging baskets, flower pouches and planters are a great way to utilise the space in small gardens and spread greenery over places that might otherwise look quite dull.

Ferns were hugely popular in Victorian times. This is how their care and propagation were described.

Very pretty ornaments for the Victorian parlour were produced by setting acorns to germinate in hyacinth glasses

Here are some tips on how to grow your own bountiful crop of tomatoes.

Tomatoes are the most popular home garden vegetable grown for good reason.
Water Features

A water feature can enliven a garden, providing a focus for a sitting or planting area.

Pumps are available in both submersible and external (out-of-pond) models.
Garden Features

The advantage of a log cabin is that it can be warm and cosy throughout much of the year, giving you that alternative space and 'get away' feeling in which to work, read or simply enjoy the garden.
Effective Gardening

In his bestselling Square Foot Gardening Mel Bartholomew advocates limiting the amount of space - and therefore time - devoted to 'each vegetable, chore, and step in the garden'.
Garden History

Gertrude Jekyll (1843-1932) aimed for 'beautiful effect' and had a lasting effect on gardening.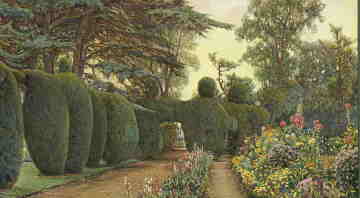 The garden featured long stretches of water, avenues of elms, limes and horse chestnuts, cedar trees, an elliptical bowling green and the Great Hedge. This yew hedge was over 600 metres long, 3 metres thick and 2-8 metres high.

Are they fruit or vegetables? Tomatoes are popular today but their introduction was slow.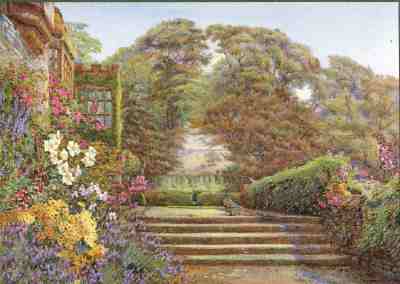 By the early 1900s the gardens were hoplessly overgrown and a massive clearance was required. Yew trees and herbaceous borders were planted and the ivy stripped from the balustrades to be replaced by climbing roses.

'A man cannot be a good gardener unless he be thoughtful, steady, and industrious; possessing a superior degree of sobriety and moral excellence, as well as genius, and knowledge adapted to his business.'

'As every person who is his own gardener is naturally anxious that the care and attention he bestows on his little plot of ground should be crowned with success, and that it should at all times present that appearance of neatness and order so pleasing to the eye, attention to the following general directions will go far to secure these advantages.'

From 'Manure from Garden Rubbish' - a World War II Dig for Victory Leaflet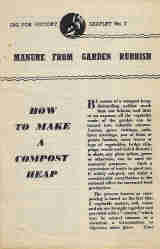 Lawns

How often you mow your lawn will depend on a number of factors.

A beautiful lawn does not come without some effort
Organic Gardening

Organic gardening is fashionable and many people try to garden without using chemical pesticides and fertilisers. But what exactly is 'organic gardening'? And what are the principles of organic gardening?

Vegetarian Society approves range of organic fertilisers
Plant Problems

They breed like rabbits and grow like weeds - and they can be very hard to kill.