include("../book-selection.html"); ?>
Prince Edward Island
Location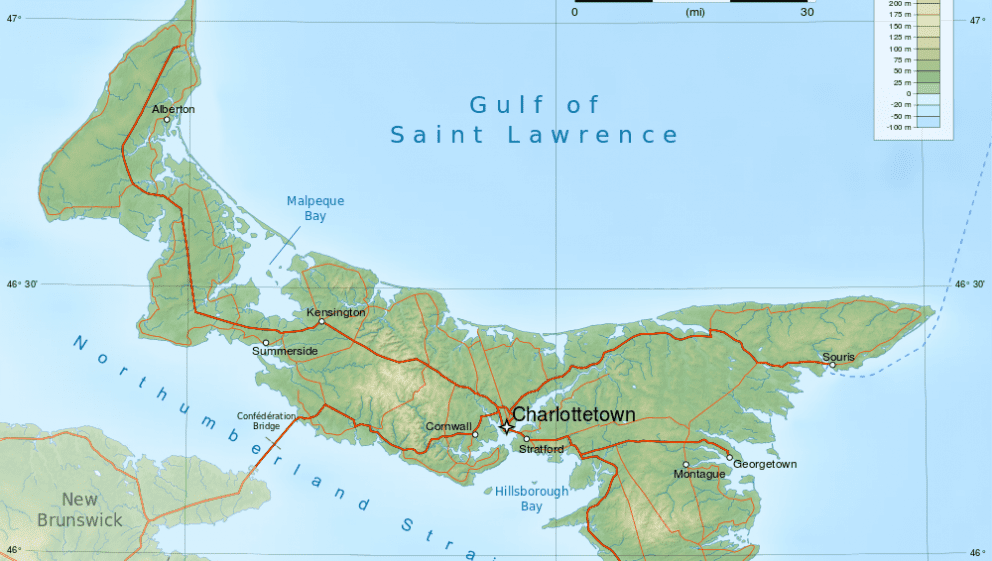 PEI Location
Prince Edward Island (PEI) is located off the eastern coast of Canada in the Gulf of St Lawrence between the provinces of New Brunswick, Nova Scotia, Québec and Newfoundland. It is connected to the mainland by the 13km long (opened 1997) Confederation Bridge so you can drive easily to your choice of accommodation. The capital, and only really urban area, is Charlottetown which has a population of just over 32,000 out of the island's population of about 136,000. The city was named after Queen Charlotte, consort of King George III, and founded in May, 1768. Prince Edward Island is in the Atlantic Time Zone (GMT -4 hours), an hour ahead of Toronto, Boston and New York.
History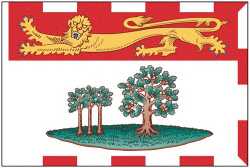 PEI Flag
The island was inhabited by the Mi'kmaq who called it Epekwitk. Jacques Cartier 'discovered' the island in 1534. The French called it Saint-Jean while the British called it St. John's Island. It gained its present name of Prince Edward Island in 1799 in honour of Edward, Duke of Kent (Queen Victoria's father). Charlottetown is sometimes described as the 'birthplace of Canada' as it hosted the first meeting on confederation in 1864. PEI joined the Canadian Confederation as its smallest province in 1873. It is one of Canada's three maritime provinces (along with New Brunswick and Nova Scotia) and part of the area known as Atlantic Canada.
The Mi'kmaq were on the island for thousands of years before the first Europeans arrived but now they make up a mere 1% of the population. Today, some 80% of islanders are of British (mainly Scots) and Irish descent. 5% of the population speak French as their first language. Potato growing has been a major industry and processing plants for frozen fries and potato chips are major employers. Tourism has boomed since the Confederation Brige was opened, with a million visitors to the island - almost all coming in July and August. Traditional fishing for lobsters, herring and oysters are is also important.
Attractions
According to Lonely Planet: "Known as 'the island' or PEI, Prince Edward Island is a pastoral, peaceful, wonderfully green expanse of quiet beauty. This province fits one's image of the English countryside: roads winding gently through bright red fields and manicured villages of neat wooden houses and gardens." Well, fields in England are usually a darker brown or grey colour and wooden houses are a rarity in English villages, but we know what they mean. Lonely Planet continues: "It's very enjoyable to drive the backroads of the island, with the sea often in sight.
"Away from the tourist centers, the pace of life is slow. Laws against billboards further add to the old-country flavor of the island. Indeed, in some ways it has changed little from the descriptions in the internationally known novel Anne of Green Gables, written here by Lucy Maud Montgomery in the early 20th century."
Visitors are particularly attracted by the bays and beaches,the national park and comparatively warm summer water in the south during mid-summer. The northern and western coasts are great for kayaking. Lodgings can be fully booked in the busy season, so plan your vacation early if you come in July or August.
use to include your Prince Edward Island visitor information, free of charge.
More about Prince Edward Island
is developing new vacation experiences, including a water trail for canoeing and kayaking along the Boughton River.
include new facilities in Georgetown's waterfront area.