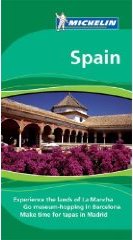 Michelin Travel Guide Spain
More information and prices from:
- US dollars
- Can dollars
- UK pounds
- Euros
- Euros
---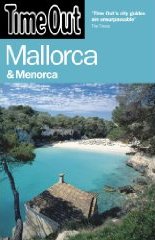 "Time Out" Mallorca and Menorca
Mallorca, and its smaller neighbor Menorca, may have been among Europe's most popular holiday hot spots for the past forty or so years, but the days when they were synonymous with boisterous, boozy package tours are well and truly over. True, you can still get sand, sea, sun, sombreros and sangria if that's what you're after, but Mallorca, in particular, has spectacularly and surprisingly re branded itself as one of the classiest holiday destinations on the Med. Nowhere will you find a greater concentration of stylish hotels - ranging from full-on metropolitan luxury to rustic farmhouse chic - and first-rate restaurants in every price bracket. Add in the island's stunning natural beauty, particularly in the Serra de Tramuntana mountains, the developed tourist infrastructure and the range of activities on offer and you have a unique destination that can satisfy just about any holiday demand you make. More information and prices from:
- US dollars
- Canadian dollars
- British pounds
- Euros
- Euros
Mallorca
La Seu, Mallorca

Mallorca, or Majorca as it sometimes spelled, is the largest of the .

Most visitors to Mallorca arrive at Palma airport, Son Sant Joan about 7 miles (11kms) outside the city. Palma itself is a sophisticated Mediterranean city built around a sheltered bay. As the Berlitz Guide says: "with palm trees and bushes of fragrant oleander, outdoor cafes with colourful awnings, and yachts bobbing in the bay among working vessels."

The city is dominated by La Seu, the great Gothic cathedral that took four centuries to build begun in 1230 AD after Mallorca was captured from the Moors. It stands on the site of the Great Mosque.

Mallorca geography

As one of the the Balearic islands, Mallorca is a continuation of a Spanish mountain chain known as the Balearic Cordilleras. Over millions of years, earth movements have pushed these mountains up and down, at times providing a land bridge with the Spanish mountains, at other times - as now - isolating them as islands in the Mediterranean.

Mallorca is made up of three main regions:

the Sierra de Tramuntana, a mountain range some 80kms long lying in a north-east to south-west direction;
the central plain, la pla, much of it made of bright red earth; and
the Sierra de Levante hills of the south-east.