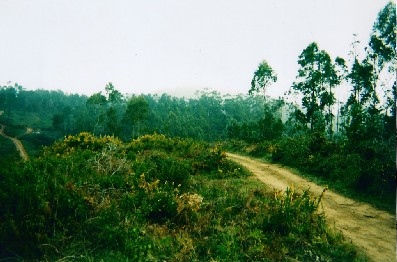 Wooded uplands in central Madeira
Madeira, Porto Santo and the other islands in the group were uninhabited when the Portuguese arrived but they had been known to Phoenician, Roman and North African sailors. There is a legend about an exiled English nobleman from Bristol, Sir Robert Machin being abandoned on the island at a place called Machico during the 14th century with his mistress, Anne d'Arset, a page and some goats - having missed their intended destinstion, Brittany, by a thousand miles. The mistress died and Machin set off for Morocco in search of the crew that had deserted him. But this is likely to be fictional and the first known settlers on Madeira and Porto Santo were Portuguese navigators, Zarco and Vaz, who found Porto Santo in 1418 and saw Madeira in the distance. In his A World of Islands, Leslie Thomas writes that:
(Madeira's dead) 'volcano and the peaks that buttress it collect clouds. When Zarco, the Portuguese adventurer - sent by Henry the Navigator in the fifteenth century to explore the ocean beyond the horizon - first saw Madeira he thought it was a cloud. He watched from the small isle of Porto Santo, 28 miles away, and wondered why the cloud was always there but did not venture further for a long time. In his heart he thought it might be theplace where God brooded.'
Zarco returned in 1420 and landed on Ilha da Madeira, named by Zarco after the Portuguese word for wood. The island was covered by great trees and an attempt was made to clear an area for settlement. The result was a fire that blazed for seven years. But more settlers soon followed and they quickly flourished due to their position on one of the main Atlantic trade routes.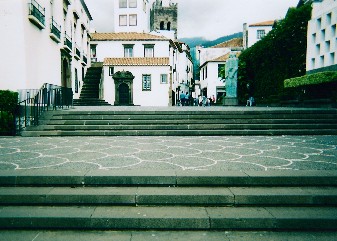 Steps leading into Funchal
Madeira wine became a major export in the 17th century and brought in British traders who had a considerable influence on the island. Their traditions are seen at Reid's Palace Hotel, Madeira's best-known hotel.
More about Madeira: