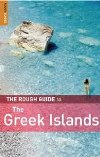 The Rough Guide to Greek Islands
New full-colour features explore the Greek Islandís highlights, including the best Greek Island beaches and the Greek Islandís finest cuisine. Find detailed practical advice on local products, sections exploring history, music, archaeology and wildlife, combined with information on living in Greece, navigating your way around the Greek Islandís extensive ferry network and comprehensive coverage of the Greek Islandsí glittering festivals. Make the most of your holiday with The Rough Guide to Greek Islands. More information and prices from:
- US dollars
- Can dollars
- UK pounds
- Euros
- Euros
---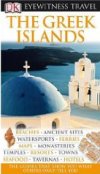 Greek Islands (DK Eyewitness Travel Guide)
by Marc Dubin
The DK Eyewitness Travel Guide to the Greek Islands will lead you straight to the best attractions the Greek islandsí have to offer. With over 1000 detailed maps, illustrations and colour photographs, this best-selling guidebook gives detailed background information on the best things to do, from magical island cruises and scenic walks and tours to the best beach resorts for a family holiday in the Greek Islands. More information and prices from:
- US dollars
- Canadian dollars
- British pounds
- Euros
- Euros
Kefalonia
Myrtos Beach, Kefalonia

Apart from Corfu there are 6 other lesser-known islands in the Ionian group: Kefalonia, Zakynthos, Lefkas, Ithaca, Kythira, Paxos, together with a number of small islets. The largest is Kefalonia (sometimes spelled Cephalonia or Kefalonia) - 50 km (30 miles long) and 735 sq km (284 sq miles) in area. The landscape of Kefalonia is composed of jagged limestone hills with clumps of cypress and olive trees on the slopes. The highest point is Mount Ainos (Enos) with an altitude of 1628 metres (5941 ft) which is covered with a native spruce. Much of the historic architecture of the island was destroyed in 1953.

The island's history is as involved and bloody as any of the others in the group. Lord Byron stayed here for four months during the Greek war of independence. More recently, the film of Captain Corelli's Mandolin focused on the island's occupation by the Italians and then the Germans during World War II.

Frommers Greek Islands describes Kefalonia as still being 'relatively inconspicuous and unspoiled' and having a lot to offer, including 'picturesque traditional villages, steep rocks plunging into the sea, fine beaches, and excellent local wine.' Myrtos beach is iconic and often featured as one of the best beaches in Greece.