South Pacific (Moon Handbooks S.)
by David Stanley
For more than 30 years, the award-winning Moon Handbooks series has been the top choice among independent travellers who want a unique experience, a new perspective, and a few new stories to tell. With Moon Handbooks, travellers are given the tools to make their own choices and create a travel strategy that's theirs alone. The result? A more personal and ultimately more satisfying travel experience. From lagoon swimming in the Cook Islands to witnessing the race of the banana bearers in the Heiva i Tahiti festival, travelers will find the best of the South Pacific, both popular and obscure, in this guidebook. Moon Handbooks South Pacific provides in-depth coverage of outdoor recreation, with specifics on swimming, diving, yachting, kayaking, biking, hiking, camping, climbing, caving, and horseback riding. Complete with useful advice on practicalities such as food, entertainment, shopping, visas, money, health, packing, and inter-island travel, travelers will find the tools they need for a uniquely personal experience in this guidebook.
More information and prices from:
- US dollars
- Canadian dollars
- British pounds
- Euros
- Euros
Beautiful Tourist Attractions in New Zealand

With some of the most beautiful tourist attractions on the planet, New Zealand is a country well worth visiting this year. Whether you're looking to get to grips with some real nature, or you're looking to top up your tan on some glorious beaches, then NZ has everything you need to have a great time.

Even if you're holidaying with your children, there's more than enough for them to sink their baby teeth into. Famous for its unique landscapes and extremely hospitable people, tourists can choose between the North Island and the South Island. Both have their individual benefits and attractions, and both are visually stunning. Let's take a look at some of the best tourist attractions to experience in New Zealand this summer.

Fiordland National Park

This national park is one of the most visited in New Zealand, and it's not hard to see why. Protected by UNESCO World Heritage status, Fiordland has mountains, waterfalls and rainforests galore, and you'll be overcome by the abundance of natural beauty and scenery. This national park is also home to Milford sound; crystal clear waters, dramatic peaks, and staggering coastal marine life. There are some great rock climbing opportunities to experience too if you've got the time to spare!

Queenstown

Queenstown is must-visit if you're holidaying in New Zealand this year, and there are plenty of reasons why. Offering a variety of adrenaline-pumping activities like water rafting, bungee jumping and even skiing, you'll be more than worn out after a day in Queenstown. Furthermore, this town is also naturally beautiful, meaning you can try out these activities surrounded by natural wildlife, glorious weather, lush landscapes and fantastic mountains.

Rotorua

Rotorua can be found in the Bay of Plenty area, and it's a beautiful city that sits on the end of Lake Rotorua. If you like exploring natural wonders, then Rotorua is the place for you, with a whole host of natural springs and geothermal activity. There are also relaxing mud pools to try out! If you're travelling with your kids then not to worry, because there are activities for them to do to! As the city is located right beside Lake Rotorua, there is lots of water excitement to be had, from jet skiing to fishing.

Mountain Cook

As the highest mountain in New Zealand, Mount Cook stands at nearly 4,000 meters high - that's over 11,000 feet! Not only is this mountain a tourist hotspot for rock climbing as well as a host of snow activities, but there are also scenic treks available all over the area. To get a better view of the mountain, why not take a helicopter ride over the terrain, or take a boat out onto the surround lakes and fish for the day. Mount Cook also offers one of the world's longest ski runs too, so there's plenty of activities to try out whilst you're here!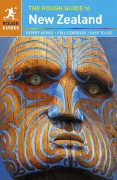 The Rough Guide to New Zealand
by Paul Whitfield, Tony Mudd, Catherine Le Nevez
Detailed accounts of every attraction along with crystal-clear maps and plans will show you the very best New Zealand has to offer: from white-sand beaches and vast kauri trees in the north to the hairline fiords and penguin colonies in the south.
More information and prices from:
Amazon.com - US dollars
Amazon.ca - Canadian dollars
Amazon.co.uk - British pounds
Amazon.de - Euros
Amazon.fr - Euros