South Pacific (Moon Handbooks S.)
by David Stanley
For more than 30 years, the award-winning Moon Handbooks series has been the top choice among independent travellers who want a unique experience, a new perspective, and a few new stories to tell. With Moon Handbooks, travellers are given the tools to make their own choices and create a travel strategy that's theirs alone. The result? A more personal and ultimately more satisfying travel experience. From lagoon swimming in the Cook Islands to witnessing the race of the banana bearers in the Heiva i Tahiti festival, travelers will find the best of the South Pacific, both popular and obscure, in this guidebook. Moon Handbooks South Pacific provides in-depth coverage of outdoor recreation, with specifics on swimming, diving, yachting, kayaking, biking, hiking, camping, climbing, caving, and horseback riding. Complete with useful advice on practicalities such as food, entertainment, shopping, visas, money, health, packing, and inter-island travel, travelers will find the tools they need for a uniquely personal experience in this guidebook.
More information and prices from:
- US dollars
- Canadian dollars
- British pounds
- Euros
- Euros
Relaxation Reading
Tips for travelling with only a carry-on

You can`t go on a trip without your luggage. After all, you`ll need toiletries, clothes and shoes when you arrive at your destination. However, if you want to travel light and avoid having to check your bags, you can get by with only carry-on luggage. It takes a bit of preparation and planning, but using only carry-on bags keeps you from having to stand and wait for your luggage to leave the airplane, and you won`t have to suffer through the process of checking your bags. Use this handy guide to make the most of your carry-on bags.

Find the Right Carry-on Bag

Most airlines have restrictions regarding the size of the carry-on bag. Before taking the time to pack yours, contact the airline and ask what the guidelines are. A common size is 22 inches x 14in x 9in, so measure your bag carefully before you stuff it full. Make sure your bag has straps so it`s easy to carry and is made from durable materials that will hold up to repeated trips.

What to Pack

The trick to traveling with only carry-on luggage is to pack strategically. You won`t be able to take a large wardrobe or every bottle on your bathroom counter. Minimize what you need by packing mix and match items that you can wear more than once. Make sure you take at least three shirts, three pairs of socks and underwear, a couple of pairs of pants, a jacket or sweatshirt, sleeping clothes, your swimsuit and extra shoes, if needed. Most hotels have a place to wash your clothes, if required. If you`ll only need one pair of shoes, you can wear them to the airport and you`ll have a bit more space in your bag. Add your cell phone, laptop and tablet if you`re going on business or keep those items in your purse or briefcase, which you can keep at your seat and skip stuffing into the overhead compartment. Don`t forget your toiletries in trial size bottles, your sunglasses and your passport if you`re traveling out of the country.

How to Pack

Rolled clothing takes up much less space than folded clothing, so tightly roll each garment and press them into the suitcase securely and tightly. You can also try bundling. This involves laying your largest item out and bundling it around all your other belongings, then stuffing the entire bundle into your carry-on bag. Try both methods to find the one that works best for you.

Tips and Tricks

Wear your bulkiest clothing onto the airplane. This includes your belt and jacket. You can always remove the jacket and carry it, and you won`t be stuck without important items that might not have a place in your carry-on bag. You can also use your pockets to carry additional items, such as paperwork, money or even spare socks, if needed.

No matter where you plan to go, whether on business or for pleasure, traveling light with just a carry-on bag is convenient and easy. You can cut your time commitment at the airport and save yourself the hassle of lost baggage. If you find yourself in a place you want to visit again, talk to someone who is selling a timeshare so you have your own place to stay whenever you want. That will save you even more trouble because you can store items there, cutting back even more on what you have to pack.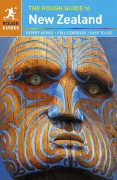 The Rough Guide to New Zealand
by Paul Whitfield, Tony Mudd, Catherine Le Nevez
Detailed accounts of every attraction along with crystal-clear maps and plans will show you the very best New Zealand has to offer: from white-sand beaches and vast kauri trees in the north to the hairline fiords and penguin colonies in the south.
More information and prices from:
Amazon.com - US dollars
Amazon.ca - Canadian dollars
Amazon.co.uk - British pounds
Amazon.de - Euros
Amazon.fr - Euros